Good morning, Quartz readers!

---
Here's what you need to know
IBM is slowing hiring for jobs that could be done by AI. CEO Arvind Krishna expects the technology to replace 30% of the firm's back-office roles in five years (more below).

BP's profits aren't breaking records anymore. But even if prices are stabilizing from the volatility that drove 2022's record-breaking haul, a quarterly $5 billion gain is still astronomical.
India's first iPhone maker is quitting. Taiwan-based Wistron's decision to wind down operations in India comes as Apple is trying to increase its presence in the country.

Paraguay's presidential election was also a victory for Taiwan. Winner Santiago Peña has pledged business as usual with the island, easing concerns of a diplomatic switch to China.
---
The biggest warnings about AI are from its designers
Companies like OpenAI and Google are racing to build and deploy new AI technology—and the people working on it are some of the most worried.

From OpenAI's Sam Altman saying "people should be happy that we are a little bit scared of this" to Elon Musk saying AI has, however small, "the potential of civilization destruction," take a look at what the people making the greatest strides in AI technology are saying.
---
Another part of the Murdoch media empire was caught fibbing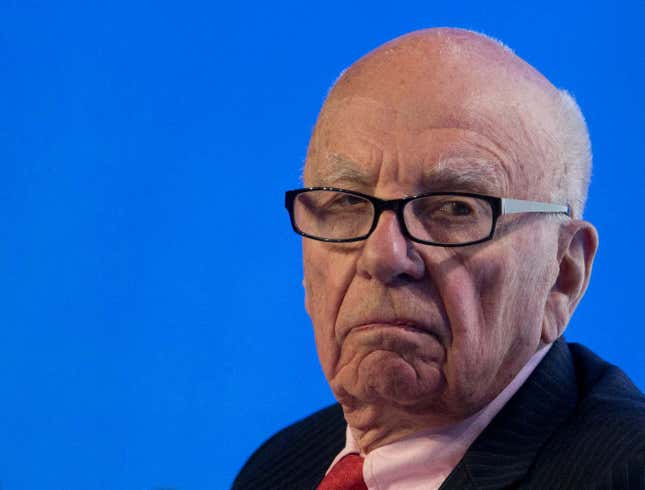 Pop quiz: On which topic did Australia's media authority say Sky News Australia—owned by Rupert Murdoch's News Corp—aired misleading information?
A. Election coverage
B. Climate change
C. Space launches
D. The covid pandemic

Find the answer in Cassie Werber's report.
---
International drug enforcers clocked a huge bust
288: Number of arrests across nine countries made yesterday in a sprawling drug bust that took down a major dark web narcotics ring

Dubbed Operation SpecTor, the investigation focused on an online drug hub called Monopoly Market and was one of the largest international operations of its kind.
---
Quartz's most banky
🤔 Why did JPMorgan Chase buy First Republic out of receivership?
💼 Jamie Dimon, from Sandy Weill's assistant to savior of First Republic
🏦 ​​The FDIC's proposal for deposit reform is narrow and uninspiring—and it just might work
🖐️ The FDIC says it didn't have the staff to regulate Signature Bank
🫵 The Fed's report on Silicon Valley Bank is out, and it blames everyone
📉 Credit Suisse's final earnings report was one last quarterly run from hell
---
Surprising discoveries
France's finance minister has enough time to write erotic novels. What's mightier, the pen or economic turmoil?
Quebec is taking an Uber approach to its public transit. People love it.

Enamored by Sweden, young Chinese workers are moving there in record numbers. But it "isn't as chill" as they had hoped.

The CEO of edtech firm Chegg name dropped ChatGPT in its weak earnings report. It sent stocks in a tailspin.

The first World's Fair had 10 miles (16 km) of exhibits. It took place in London and kicked off nearly two centuries of gathering the world's ideas into one exhibition. So why don't we talk about the World's Fair anymore? We'll explain in the first episode of the Quartz Obsession podcast, season five!
⬇️ Subscribe today, wherever you get your podcasts: Apple Podcasts | Spotify | Google | Stitcher | YouTube 
---
Our best wishes for a productive day. Send any news, comments, time to write and manage a country's finances, and Nordic cuisine to talk@qz.com. Reader support makes Quartz available to all—become a member. Today's Daily Brief was brought to you by Morgan Haefner.