Good morning, Quartz readers!

---
Here's what you need to know
ExxonMobil is preparing to fend off activist investors... The oil giant wants shareholders to vote against proposals calling for greater clarity over the company's emission reduction targets.
... while Delta Air Lines is being sued over its carbon neutrality claims. A class action lawsuit questions the efficacy of the airline's carbon offsets.
AI experts warned that the technology poses an existential threat to humanity. Sam Altman, the CEO of ChatGPT maker OpenAI, was among the open letter's signatories.
Twitter has now lost two-thirds of its value since Elon Musk's takeover. Fidelity slashed the value of its stake in the company once again, an overall 66% decrease from what it was worth at the end of October.
Foreign tech is powering China's homegrown plane
At least $70 billion: Investment China has made in its C919 airplane since 2007
State-backed agencies have hailed the aircraft as one that'll compete directly with Airbus and Boeing. But core parts of the C919—including its engine, tires, and in-flight entertainment—are sourced from the US and European countries, thanks to the very Airbus-Boeing duopoly China is trying to dismantle.
Read more about the C919's maiden flight and what it means for global aviation.

---
The Turkish lira didn't cheer on Erdoğan
Turkey's currency had a bad day yesterday, slipping to a fresh low against the US dollar. The lira was reacting to the re-election of president Recep Tayyip Erdoğan, whose fiscal policies have been unpopular.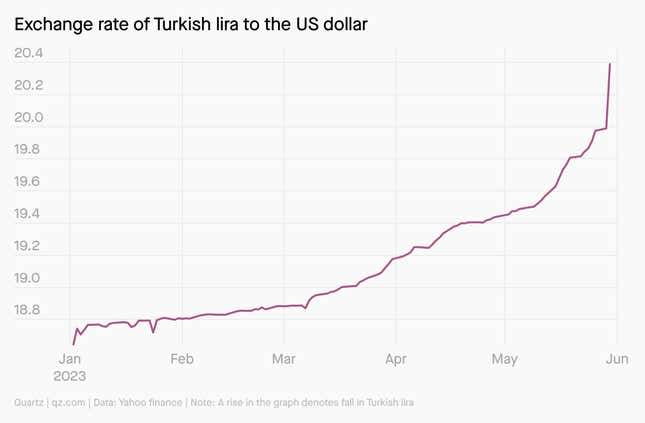 ---
What do the World's Fair and our podcast have in common?
We won't make you click through for the answer: Both are methods—past and present—through which new technological wonders are communicated. Will all our homes be smart in the future? Will we ever be able to vote online? Can AI be trusted to vet us for jobs? And will it ever not churn out bonkers information? And once and for all, can we finally find some solution to the problem of single-use plastic?
Learn about the life-changing promises made by tech innovations, and whether they'll be able to make good on them, in season 5 of the Quartz Obsession podcast, now available in its entirety!
🤖 Binge the whole season, wherever you get your podcasts: Apple Podcasts | Spotify | Google | Stitcher | YouTube
---
Quartz most popular
🧜🏿‍♀️ IMDb sensed something fishy in The Little Mermaid reviews
💉 Insurance coverage for Ozempic shows the complexity of obesity treatment
🇺🇲 Which US states have produced the most presidents?
🤖 A US attorney faces punishment for citing fake cases ChatGPT fed him
✖️ Twitter has withdrawn from an EU deal to combat disinformation
🔥 State Farm has stopped insuring Californian homes because of wildfire risk
Surprising discoveries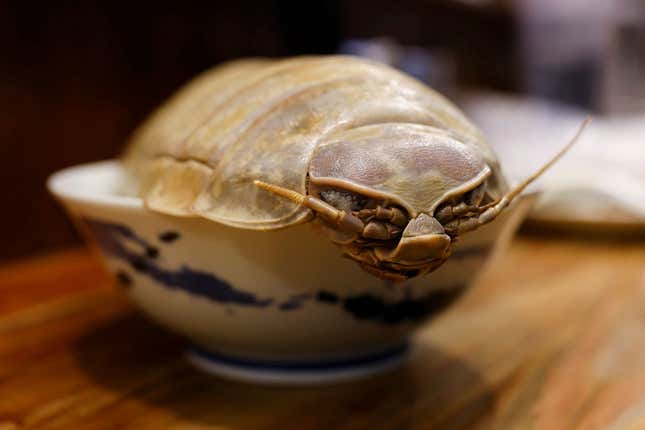 A restaurant in Taipei has a 100-person queue for a 14-legged dish. Order's up, and it's a giant isopod.
Blackjack players lost $1 billion at casinos on the Las Vegas Strip last year. That's the second-highest loss on record.
Retailers are selling "Jensen Huang" jackets. The Nvidia CEO is giving black leather coats the Steve Jobs treatment.
Venice's Grand Canal was dyed fluorescent green... Police are still in the dark about who did the tinting.
…and California's red velvet cake is losing its color. It's the first US state to ban food additives used in candies, cake mixes, and protein shakes.
---
Our best wishes for a productive day. Send any news, comments, gourmet isopod, and Jensen Huang jackets to talk@qz.com. Reader support makes Quartz available to all—become a member. Today's Daily Brief was brought to you by Sofia Lotto Persio, Morgan Haefner, and Susan Howson.