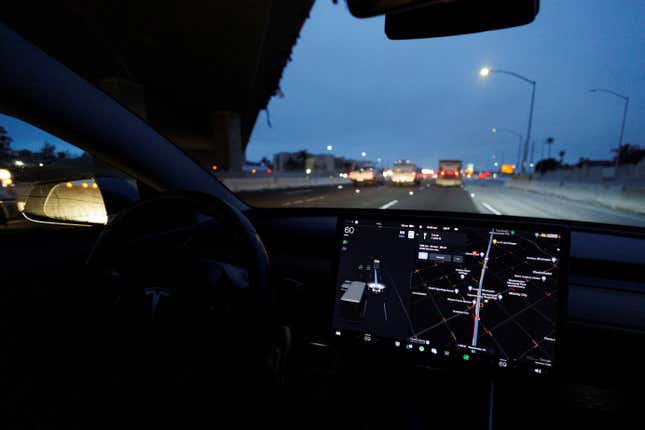 Good morning, Quartz readers!

---
Here's what you need to know
Tesla and Netflix are doing just fine. Autopilot concerns (see more below) and Hollywood strikes have yet to affect the automaker and streaming platform, whose latest earnings reports are buoyed by interest in its EV connector for the former and a password-sharing crackdown and price hikes for the latter.

What inspired Elon Musk's design for Tesla's Cybertruck?
AI news briefly sent Apple's market cap up by $67 billion. Bloomberg reported that Apple was considering its own version of ChatGPT and Bard.
Norway is fining Meta $100,000 per day. Like Ireland before it, the Scandinavian country says the tech giant is advertising based on illegal data-gleaning practices.
Microsoft and Activision gave themselves more time to close their $69 billion deal. The two companies now have another three months to try to clear their final hurdle: the British government.
---
Foreign investment in US manufacturing is booming
Encouraged by recent incentives, the US manufacturing sector saw big increases in foreign investment last year.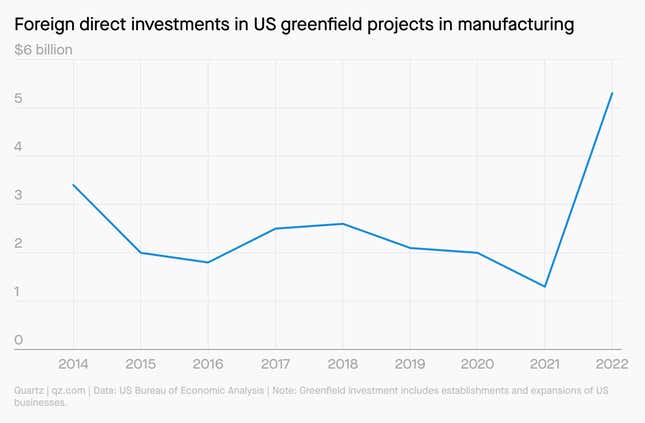 These production incentives have raised concerns that European firms will try to relocate their investments to the US, possibly resulting in a US-EU trade dispute. But there's no reason to panic, just yet. As Mary Hui explains, European investment in US greenfield projects—those that involve both establishment and expansion—is actually on the decline.
---
Evictions are skyrocketing in the US
Cities that put a moratorium on evictions during the pandemic are now seeing eviction filings far outpace what an average pre-pandemic year would bring. It's a bit of a bullwhip effect, as property owners make up for lost time.

And that's not even the whole picture: the data doesn't reflect lockouts, extreme rent increases, or lease terminations that push tenants out, as Quartz's Clarisa Diaz explains.
---
Was Tesla's latest crash an autopilot fail?
Two people were killed—one from each vehicle—in a July 5 car collision in California. Now, investigators are looking into whether Tesla's self-driving mode was to blame.
A look at the latest probes into Tesla's Autopilot, by the digits:

36: Special Crash Investigations involving Tesla's self-driving system since 2016
At least 22: Fatalities involved in those 36 cases
830,000: Vehicles involved in a separate Tesla probe by the National Highway Traffic Safety Administration
More than 360,000: Teslas affected by a NHTSA recall over Autopilot concerns in February
---
Quartz's most popular
🥵 Miami is feeling the Messi fever ahead of the superstar's MLS debut
📉 AT&T's stock is sinking under the weight of future litigation over toxic lead cables
🥊 The Zuck-Musk "cage match" is just an online squabble
🚒 Canada's massive wildfire problem is worsening
⚔️ Chinese fast-fashion giants Shein and Temu are fighting over "exclusionary tactics"
🍵 Why the world only has two words for "tea"
---
Surprising discoveries
Taco Tuesday will now belong to everyone. That was Taco Bell's ostensible goal when successfully challenging another chain's 34-year-old trademark of the term. But who shall get the last laugh?
In other fast food ostensible goal news, In-N-Out Burger is banning masks on employees. The conservative-leaning chain says it just wants to show off staff smiles.
NBCUniversal has ostensible pruning goals. What the company says is an annual tidying of trees served to neatly remove shade from a picket line during a heat wave.
We don't know as much about carbon as we thought. Scientists just detected its existence in the cosmic dawn—which upends some previous assumptions about how it even came to exist.
K-pop is a testing ground for using AI to break through language barriers. Is this a use of machine learning in music that we could all come together on?
---
Our best wishes for a productive day. Send any news, comments, ostensible goals, and actual objectives to talk@qz.com. Reader support makes Quartz available to all—become a member. Today's Daily Brief was brought to you by Susan Howson.