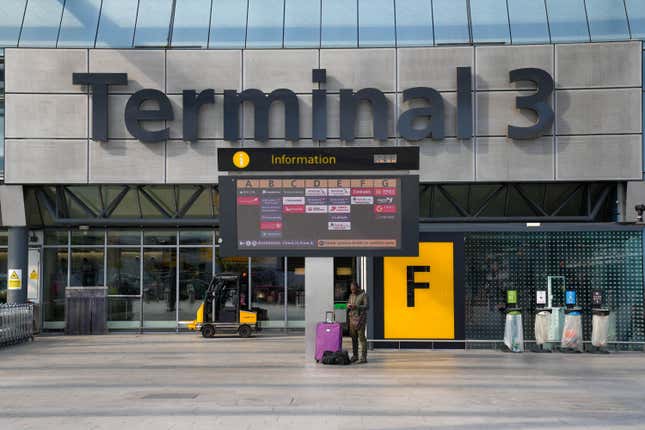 Good morning, Quartz readers!

---
Here's what you need to know
A technical glitch in the UK's air traffic control system caused major flight delays. More than 500 trips were canceled yesterday on one of the country's busiest travel days.
Why a tightening of credit conditions could lead to a weak economy
BYD forked over $2.2 billion for Jabil's manufacturing arm. The electronics unit of the Chinese EV maker will take over operations of Jabil's plants in China in what's likely a derisking move for the US company (more on that below).

3M agreed to pay more than $5.5 billion to resolve 300,000 lawsuits. The US conglomerate faced claims that it sold defective combat earplugs to the US military.

Foxconn's founder is making his third attempt to become Taiwan's leader. This time Terry Guo is running as an independent in the election, scheduled for January.
---
Hong Kong has a new public enemy
Hong Kong's national security police has put opposition politicians behind bars, chased activists into exile, atomized civil society, and decimated the Hong Kong independent media. Now, it has a new target: the Cantonese language.
Gongjyuhok, a Hong Kong advocacy group that promotes the use of Cantonese, announced yesterday that it's shutting down after authorities demanded it remove a dystopian short story.

Cantonese is the lingua franca of Hong Kong and is intimately tied to Hong Kongers' identity as distinct from the mostly Mandarin-speaking mainland—and Gongjyhok's effort to protect and promote the Cantonese language is standing in direct defiance of Beijing's ongoing effort to repress the linguistic identity of Hong Kong.

---
And in China, "de" is the enemy
The West's push to decouple and derisk from China threatens to derail the country's economic ambitions. Beijing knows this: Just look at how eager Chinese state media was to portray Elon Musk as the government's "ideal foreign investor" when the Tesla CEO visited China in May. But old habits are hard to break. A Caixin editorial argued that the Chinese government's continued insularity is undermining foreign investment, a worrying trend that is "decidedly detrimental to…pursuing high-quality development."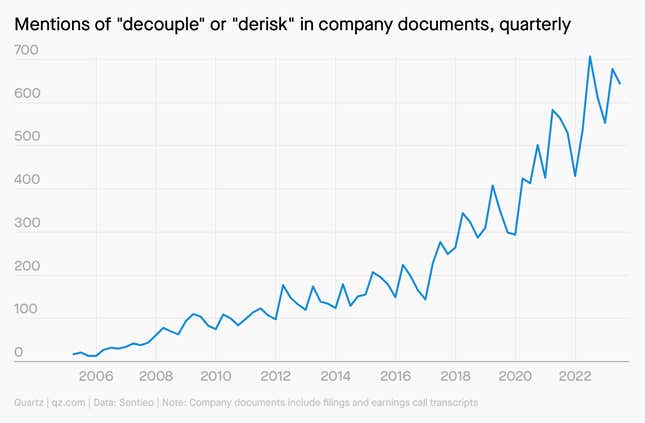 As pessimism around China's economy reaches a fever pitch, Quartz's Mary Hui explained in the latest Weekend Brief—our member-exclusive email—that there isn't a single factor behind this period of economic instability, but several competing ones.
✉️ Sign up for the Weekend Brief for analysis on one big news item each week.
---
One big number: 5,821
The number of American Airlines passengers trapped on the tarmac in instances that lasted longer than three hours from 2018-2021—mostly at Dallas Fort Worth International Airport.
US regulators slapped the airline with a $4.1 million fine for the hassle, the largest ever federal fine for excessive delays.
---
Quartz's most popular
🐋 Oil giants are lawyering up against an endangered whale
🤑 A $40,000 Nvidia chip has become the world's most sought-after hardware
💌 Every successful relationship is successful for the same exact reasons
🏙️ These are the world's most expensive cities in 2023
😞 There's a biological reason you feel down after having the time of your life
---
Surprising discoveries
PSA: pumpkin spice alert. Gentle reminder: There's no pumpkin in pumpkin spice.

A single British farm grew 11,000 watermelons this year. That's double last year's harvest, and likely a record in a climate that's not well-suited for the fruit.

Adam Sandler broke a Rotten Tomatoes record. You Are So Not Invited to My Bat Mitzvah is bringing the actor some of his best critical reviews to date, though popular opinion isn't quite matching up.

More than 90% of emperor penguin colonies will be nearly extinct by the end of the century. Breaks in sea ice are killing thousands of the young birds.

The 35th annual World Bog Snorkeling Championships was held in Wales. Giant plastic toad caps were optional.

---
Our best wishes for a productive day. Send any news, comments, watermelon juice, and toad hats to talk@qz.com. Reader support makes Quartz available to all—become a member. Today's Daily Brief was brought to you by Morgan Haefner.