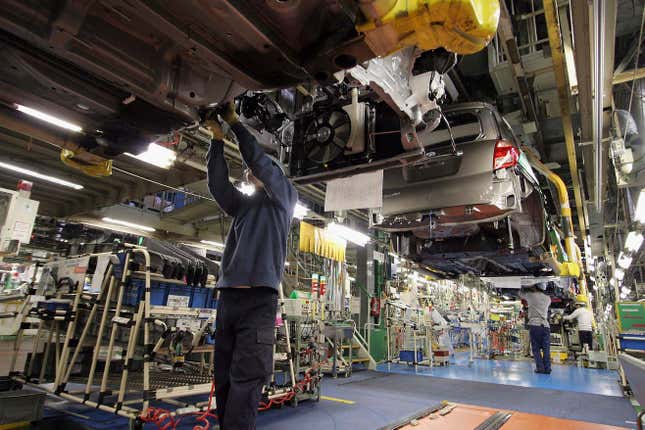 Good morning, Quartz readers!
---
Here's what you need to know
Toyota blamed a computer system glitch for a stoppage affecting a third of global production. All 14 of the carmaker's Japanese assembly plants were shut down yesterday, but Toyota says it has ruled out a cyberattack.
Should you keep investing in Big Tech?
Johnny Kitagawa's niece will resign as head of J-pop starmaker agency Johnny and Associates. The company was ordered to purge its leadership and compensate some of the victims after abuse by its late namesake and founder was proven in a civil court, though he most likely assaulted hundreds over decades.
Burger King can't ignore customers' beef with the size of its Whoppers. A US federal judge said some, but not all, of a class-action lawsuit against the fast food giant for exaggerating the size of its hamburgers in advertising could continue.
---
Once more, but with profit!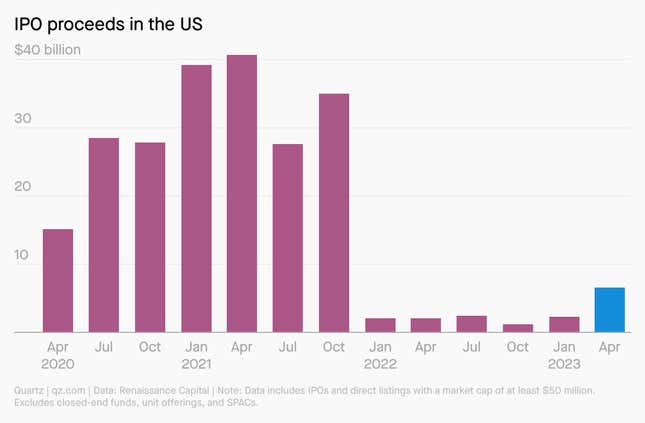 The companies filing to go public this year look a little different from their counterparts in 2021 and 2022: They're actually profitable.
In the last 18 months, the IPO market has tightened after its pandemic boom. Companies suddenly started feeling pressure from investors to show evidence of sustainable growth amid market uncertainty and recession fears. And rising interest rates made borrowing more expensive, compressing the time horizon for startups to turn profitable.

But is the IPO window actually opening up? Michelle Cheng is here to explain why it's too soon to tell.

---
Tesla. Toyota. VinFast?
Vietnamese electric vehicle manufacturer VinFast's stock has risen more than 688% since its Aug. 15 debut. On day one of trading, the EV maker's valuation rose above legacy carmakers Ford and General Motors. Now, as its market cap nears $200 billion, it's become the world's third-most valuable automaker behind Tesla and Toyota.
Analysts say there aren't any real numbers to back up that valuation, but even though VinFast's business isn't in the black, there are some makings of future success in there, if you look closely:

🕴 A deep-pocketed backer in parent company Vingroup, spearheaded by Vietnam's richest man Pham Nhat Vuong
🇻🇳 A rapidly rising economy as its home base
🏭 The growing opportunity to replace China as the world's factory
💰 The prospect of securing additional investment from sovereign wealth funds and other investors in the next 18 months or so
---
Ticketmaster's problems are only getting worse
Last year, Taylor Swift and her many, many fans watched, aghast, as tickets for her Eras tour sold out in seconds, then popped up on third-party resellers at absurd prices. Ticketmaster, the world's largest ticketing company, has yet to fix its scalper problem.
Now, the issue has expanded beyond the world of already pricey concerts to movie premieres. Tickets to the Toronto International Film Festival, featuring the premiere of Hayao Miyazaki's long-awaited The Boy and the Heron, are now available on third-party resellers for hundreds of dollars (both Canadian and US).
Ananya Bhattacharya looks into the call to reevaluate the decades-old merger that created a ticketing monopoly.
---
Quartz's most popular
👂 3M is paying $5.5 billion to resolve 300,000 lawsuits over defective combat earplugs
🤐 How Europe's new digital privacy act will change Big Tech regulation
⛔ The US's chief anti-diversity crusader has come for law firms
😬 Farmers Insurance is now cutting jobs after pulling products from California
🪑 ​​The abrupt shutdown of a 34-year-old furniture company left more than 500 workers jobless
🥗 Tupperware: Can't be contained
---
Surprising discoveries
Brides in one Chinese county get a cash reward if they're younger than 25. It's part of an incentive to up the birth rate.
Tuna is to cat taste buds as sugar is to ours. Scientists proved what cat owners already knew, but why cats evolved to crave this particular type of umami taste is still a mystery.
Vaccine skepticism has spread to pet owners. As dogs are responsible for 99% of rabies cases globally, that's pretty scary.
Rome says it's tackling the Colosseum's rat problem. To be fair, they're flourishing because an influx of humans is leaving an influx of garbage.
AI-written mushroom foraging books should not be trusted. And they're popping up on Amazon like poisonous fungi.
---
Our best wishes for a productive day. Send any news, comments, Phantom Thread stills, and rabies vaccination records to talk@qz.com. Reader support makes Quartz available to all—become a member. Today's Daily Brief was brought to you by Susan Howson.