Good morning, Quartz readers!

---
Here's what you need to know
Tucker Carlson is out at Fox News. The most popular primetime anchor in the US split with the network less than a week after it settled a defamation lawsuit with Dominion Voting Systems for nearly $800 million (see more below).
Zomato changed its pay structure, and 1,000 workers quit in Delhi. Its instant delivery service Blinkit saw a quarter of its 370 fulfillment centers close because of the exodus.
The US Federal Aviation Administration didn't anticipate a Starship dust storm. After SpaceX's historic test launch last week, a layer of sand coated nearby areas and needs to be cleaned up.
British aristocrats who benefited from slavery want the UK to pay reparations. The Heirs of Slavery is lobbying with Caribbean nations for a formal apology and restorative justice to slave trade descendants.
---
Big shakeups at big media outlets
In the course of 24 hours, Don Lemon was fired from CNN, Tucker Carlson and Fox News broke up, and NBCUniversal's CEO Jeff Shell quit after having an "inappropriate relationship" with a colleague.
The dramatic and swift departures have sparked more questions than answers. How will turbulence at the top affect NBCUniversal's already lagging Peacock streaming service? Does it even matter who hosts CNN shows if nobody is watching cable news? And should we ever trust anyone who says "We'll be back on Monday" again?
---
The countries with the worst malaria rates
Today is World Malaria Day, but one region—Africa—continues to carry a disproportionately high share of cases of the mosquito-borne disease, 95% of them to be exact.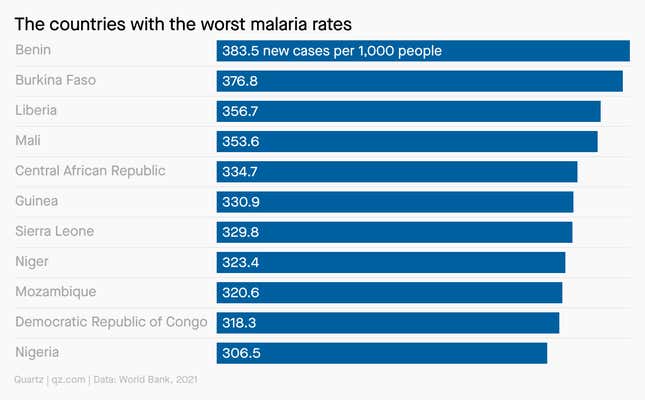 Vaccine advancements could start to curb these statistics. This month, Ghana became the first country in the world to approve Oxford's new malaria vaccine for use in children aged between five months and three years, with Nigeria following suit.

---
🎵 Let's get to court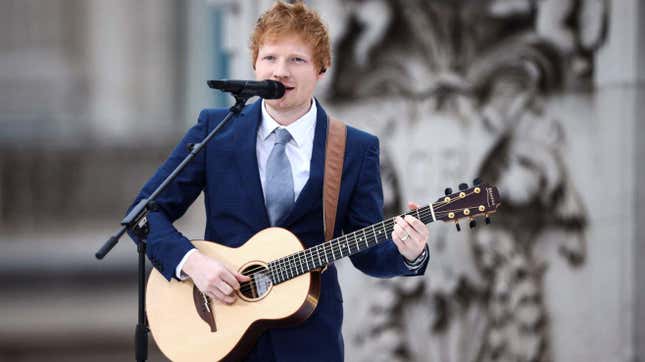 "I feel like claims like this are way too common now and have become a culture where a claim is made with the idea that a settlement will be cheaper than taking it to court, even if there is no basis for the claim... It's really damaging to the songwriting industry. There's only so many notes and very few chords used in pop music. Coincidence is bound to happen if 60,000 songs are being released every day on Spotify. That's 22 million songs a year. And there's only 12 notes that are available."
—Ed Sheeran, after winning a copyright battle in the UK in June 2022 over his 2017 hit song "Shape of You." The English pop star is now going to court over his song "Thinking Out Loud," which the family of Ed Townsend, Marvin Gaye's co-writer, argues ripped off "Let's Get It On."
---
Quartz's most popular
🍿 Americans are flocking to movie theaters. Is it a recession warning?
🇨🇱 Chile is its nationalizing new lithium production
🗳️ Once a Trump supporter, Larry Elder is now a challenger in the 2024 presidential race
🤑 Mike Bloomberg is planning to leave his company to Bloomberg Philanthropies
🫥 How do you draw a circle? It says a lot about you!
🥷 Thieves took $15 million worth of gold and other valuables from Canada's largest airport
---
Surprising discoveries
Coca-Cola is getting into fresh fruit... Or, more accurately, it hopes that slapping its Minute Maid and Simply logos on some lemons will make you think those brands are healthy by association.

…But Pepsi is coming for Coke's Sprite... Sierra Mist is dead. Long live Starry.

…And Belgium is coming for Miller High Life... Not everyone's cool with the American lager calling itself the "Champagne of Beers."

…And after you've sampled all of the above, you're going to need an "activity snack." The ultra-cute term just means "get up and take a walk for a few minutes" to markedly calm your blood sugar levels.

The Super Mario Bros. Movie is appearing on music charts, too. Jack Black's "Peaches"—the ballad of a big spiky turtle-type thing who loves a wide-eyed princess—is the actor/comedian/singer's first solo song on the Billboard Hot 100.
---
Our best wishes for a productive day. Send any news, comments, the last cans of Sierra Mist, and activity snacks to talk@qz.com. Reader support makes Quartz available to all—become a member. Today's Daily Brief was brought to you by Morgan Haefner and Susan Howson.