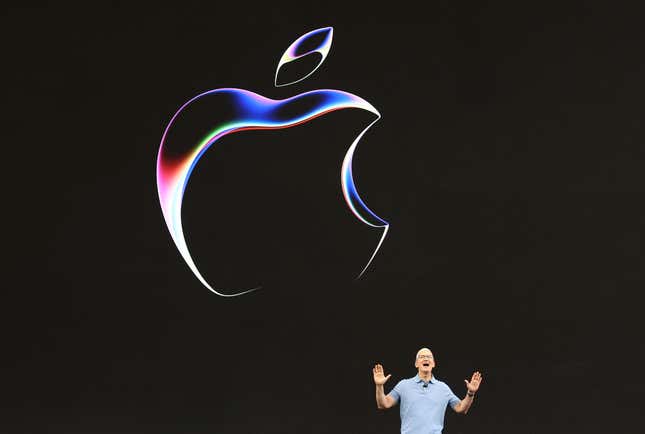 Good morning, Quartz readers!

---
Here's what you need to know
AI news briefly sent Apple's market cap up by $67 billion. Bloomberg reported that Apple is developing its own version of ChatGPT and Bard.
How Coursera CEO Jeff Maggioncalda is re-strategizing in the age of AI
Microsoft and Activision gave themselves more time to close their $69 billion deal. The two companies now have another three months to clear their final hurdle: the British government.
Netflix added 5.9 million subscribers in the last quarter. The streamer's biggest challenge is now to build up its ad business.
Miami is feeling the Messi fever. Tickets for Inter Miami's first game since officially signing Lionel Messi, scheduled for July 21, command three-digit prices, even if the Argentine star's presence on the pitch is not yet guaranteed.
---
Quotable: Two Chinese e-commerce giants are squabbling

The intent and effect of Shein's anticompetitive conduct is to exclude Temu so that Shein can charge higher prices to consumers while offering a smaller selection and lower quality. —Temu's lawsuit against Shein, filed in Massachusetts on July 14
The Chinese e-commerce platform Temu, known for fast fashion and cheap products, launched in the US less than two years ago, but it's growing fast. The company, however, claims it could be growing faster still if its rival Shein wasn't engaging in "exclusionary practices." Quartz's Ananya Bhattacharya looked into how a price war turned into a legal battle.
---
Evictions are skyrocketing in the US
Cities that put a moratorium on evictions during the pandemic are now seeing eviction filings far outpace what an average pre-pandemic year would bring. It's a bit of a bullwhip effect, as property owners make up for lost time.

And that's not even the whole picture: the data doesn't reflect lockouts, extreme rent increases, or lease terminations that push tenants out, as Quartz's Clarisa Diaz explains.
---
One big number: $100,000

Daily fine Meta risks for breaching advertising laws in Norway
Norway is accusing Meta of harvesting troves of citizen data without consent and using the information for targeted advertising. A Norwegian regulator will levy a daily $100,000 fine on the tech giant until it complies with the nation's advertising standards. Quartz's Faustine Ngila detailed the regulator's demands.
---
Quartz's most popular
📉 AT&T's stock is sinking under the weight of future litigation over toxic lead cables

🥊 The Zuck-Musk "cage match" is just an online squabble
🚒 Canada's massive wildfire problem is worsening
🍵 Why the world only has two words for "tea"
⚽ 7 numbers to know ahead of the 2023 FIFA Women's World Cup
🔎 The US is investigating whether a fatal Tesla crash involved autopilot mode
---
Surprising discoveries
NBCUniversal has ostensible pruning goals. What the company says is an annual tidying of trees served to neatly remove shade from a picket line during a heat wave. 
We don't know as much about carbon as we thought. Scientists just detected its existence in the cosmic dawn—which upends some previous assumptions about how it even came to exist.
#EggFreezing is all over TikTok. The hashtag has been viewed more than 124 million times, and Gen Zers are getting in on the trend.
A particular genetic variant may explain why some people never got sick with covid. If you never got symptoms, you probably have your HLA-B*15:01 to thank.
K-pop is a testing ground for using AI to break through language barriers. Is this a use of machine learning in music that we could all come together on?
---
Our best wishes for a productive day. Send any news, comments, tree pruning tools, and #eggfreezing TikToks to talk@qz.com. Reader support makes Quartz available to all—become a member. Today's Daily Brief was brought to you by Sofia Lotto Persio and Susan Howson.