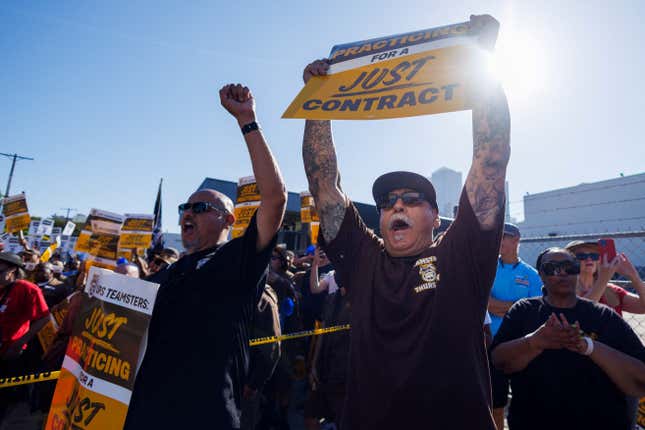 Good morning, Quartz readers!

---
Here's what you need to know
Gautam Adani is selling his shadow banking business. American private equity firm Bain Capital is buying 90% of Adani Capital and Adani Housing.
Why a tightening of credit conditions could lead to a weak economy
The morality police shut down a major Iranian e-commerce company. The ​​Tehran office of Digikala was closed after the firm allegedly published pictures online showing female employees without headscarves.

The Israeli parliament passed a law that weakens the country's Supreme Court. This win for prime minister Benjamin Netanyahu came despite massive protests against the measure.

Barbie beat Oppenheimer at the US box office. Greta Gerwig now holds the record for biggest US opening weekend for a female director.
---
A striking summer
The US is staring down what could be one of its largest and costliest strikes ever: a walkout of 340,000 UPS workers. Just a 10-day work stoppage could drain $7 billion from the delivery company.
Workers across the country have turned the heat up on employers this summer. Here's a refresher on the latest worker actions:
😮‍💨 Broadway actors narrowly avoided a strike after workers reached a deal with producers
🌳 The timing of NBCUniversal's tree pruning along a picket line spot couldn't be more suspicious
🎬 Netflix isn't feeling the impact of the Hollywood writers and actors strikes—yet
🛑 For the first time in 63 years, actors and writers have stopped work at the same time
🏨 California hotel employees started the largest ever hospitality strike in US history
---
One big number: 2 million
Signups for Worldcoin, Sam Altman's biometrics-based cryptocurrency

Altman, the CEO of OpenAI, launched the digital asset yesterday, and its ambitions are pretty hefty: Distinguish humans from AI, tackle online identity challenges, and solve income inequality. Quartz's Faustine Ngila explains how Worldcoin aims to accomplish all of that.
---
How the letter X came to be
Twitter is now X, a letter some linguists theorize came from the Phoenician letter samekh. Samekh is pronounced with a hard "s," the meaning of which may have been something akin to "pillar," "peg," "support," or quite literally "fish," given its resemblance to a fish skeleton.
We're just a bit obsessed with the letter X—and a lot of other things. Sign up for Quartz's Weekly Obsession email for deep dives on forgotten histories, surprising facts, and vital stats.
---
Quartz's most popular
☄️ Sam Bankman-Fried wanted to buy the nation of Nauru to wait out the world's end
😍 Every successful relationship is successful for the same exact reasons
📈 Eviction filings are rising in these US cities
💍 The world's largest office building is filled with diamonds
✈️ United Airlines pilots don't want to be promoted
🫵 TSMC blamed a lack of skilled US workers for delays at its Arizona chips plant
---
Surprising discoveries
The US has an annual Hemingway lookalike contest. Gerrit Marshall, a man from Wisconsin, beat out 140 other doppelgängers.
The dark bordered beauty moth is flying away from the edge of extinction. If we're being honest, it's not really beautiful, but its story is.
Young adults in China are being hired by their parents. Their job is to be a full-time child who helps around the house, just like in the good ol' days, only for money.

The Mexican government said making its own rain has effectively treated drought in rural areas. But physicists see the method as a Band-Aid solution.

If the UK's biggest meat eaters curbed their intake, it'd be like taking millions of cars off the road. Eight million, to be exact.

---
Our best wishes for a productive day. Send any news, comments, Hemingway quotes, and veggies to talk@qz.com. Reader support makes Quartz available to all—become a member. Today's Daily Brief was brought to you by Morgan Haefner.