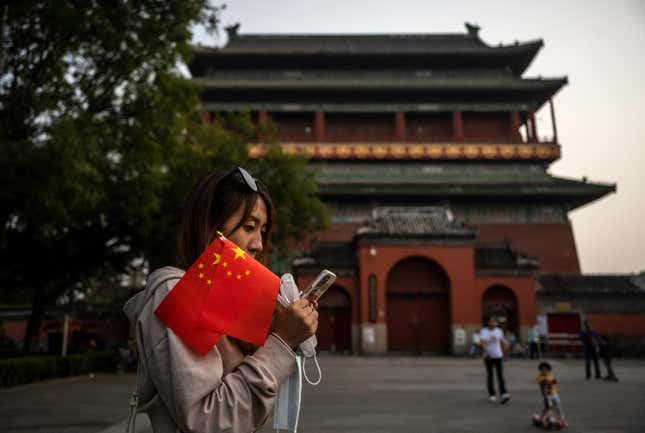 Good morning, Quartz readers!
---
Here's what you need to know
China has new app rules. Developers will be required to submit business information to the Chinese government, and it's looking like it'll be one big headache for tech companies.
India cleared the $10 billion Sony-Zee deal. The entertainment mega merger still has a few more hoops to jump through before it can become the second-biggest media company in India.
Another Tesla crash involving its autopilot mode is being investigated. It's the second time in less than a month that US car safety regulators are looking into such an incident.
Elon Musk's X was fined $350,000. The company was found in contempt of court for delays in complying with an order to hand over data related to Donald Trump's account.
---
Zoom users, here's WhatsApp
"Let's WhatsApp" is starting to sound a lot like "let's Zoom."
The Meta-owned instant messaging platform is now letting users share screens on video calls, the same way you can on Zoom and Google Meet. Sure, Zoom still dominates the global video call market, and this won't change overnight—but what it doesn't have is WhatsApp's huge user base. Instead, it just has a huge amount of drama.
2.7 billion: People who use WhatsApp
300 million: People who participate in Zoom calls daily
11%: Share of Zoom's user base compared to WhatsApp
---
US home prices are being pesky
Inflation in the US was up a smidge in July compared to June, but the increase could have been entirely avoided if the country provided ample housing for its people. Seriously—a whopping 90% of the uptick could be attributed to shelter.
If you were hoping for signs home and rent prices are about to become more affordable—or even self-storage real estate prices—we're sorry to disappoint you, because there's a lot of zoning laws that have to change first. But if you're looking for five signs the US economy is still motoring along, well, that we have.

---
Amtrak is dreaming of Japan
Imagine: 240 miles (390 km) in just 90 minutes, one way. But in America.

A high-speed rail line connecting Dallas and Houston (two of the five largest metro areas in the US) has been a twinkle in Texas Central's eye for the past decade. Now Amtrak is hopping on board, and the inspiration is clear: Japan's N700S Series Shinkansen, aka the bullet train. How long it'll take for the dream to reach reality, though, is something no American is holding their breath for.
---
Quartz's most popular
🧓 How AI could help home caregivers
🚄 The dream of the first hydrogen rail network has died a quick death
🙄 It's no surprise Zoom wants workers back in the office
🤷🏽‍♂️ Lyft's end to surge pricing means drivers will earn less—and Lyft doesn't mind
📽️ The top 7 highest-grossing films directed by women
🧲 Bad news about that miracle superconductor
---
Surprising discoveries
A New Zealand supermarket's AI meal planner is suggesting "poison bread sandwiches." This is what they mean when they say AI is going to kill us all.
Europe underwent a big freeze 1.1 million years ago. It was so severe that for 200,000 years, no humans lived in Europe.

Someone recreated Steve Job's beat-up Birks. Thirty pairs of the lookalikes were made with no plans to sell them, at least yet.

Plastic can be made into… soap?! If you can get past the "unique color," it's fully functional.

And weeds can be made into… airplane fuel?! Field pennycress has an impressively high oil content.

---
Our best wishes for a productive day. Send any news, comments, "bleach-infused rice surprise," and "methanol bliss" to talk@qz.com. Reader support makes Quartz available to all—become a member. Today's Daily Brief was brought to you by Morgan Haefner and Sofia Lotto Persio.