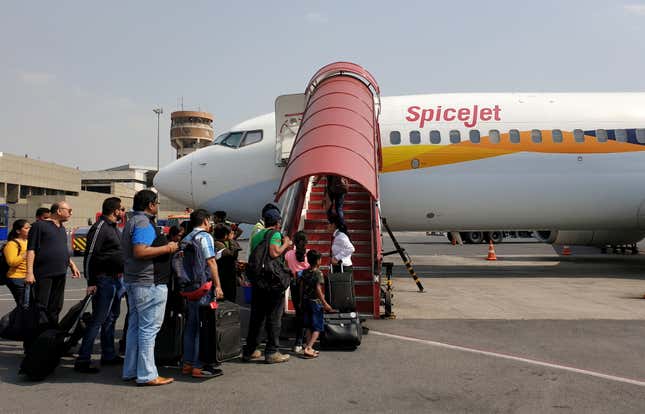 Good morning, Quartz readers!

---
Here's what you need to know
India's airfare prices are descending back to Earth. The bankruptcy of low-cost carrier GoFirst was the reason that prices were surging, but rates have since leveled out.
Europe threatened to break up Google's advertising monopoly. The European Commission's antitrust concerns dovetail those of US trade regulators: Both entities claim the tech giant stifles online ad competition.

Russia has a new windfall tax. The one-time, 10% levy on large Russian companies' excess profit comes as the country feels the monetary cost of invading Ukraine.
The US Federal Reserve hit "skip." No rate hikes were implemented this month, but that doesn't mean they're over—in fact, that's why it's called a skip.

Paris is trying to get its Olympics LVMH-branded. But if a partnership happened, it might not involve some of the brands in the French luxury goods company's portfolio.

---
In India, stocks of a 77-year-old tire company are higher than Google's
Maybe MRF is a new name to you, but it just became the first stock on India's exchanges to hit a record 100,000 Indian rupees ($1,220), eclipsing some of the world's biggest brands.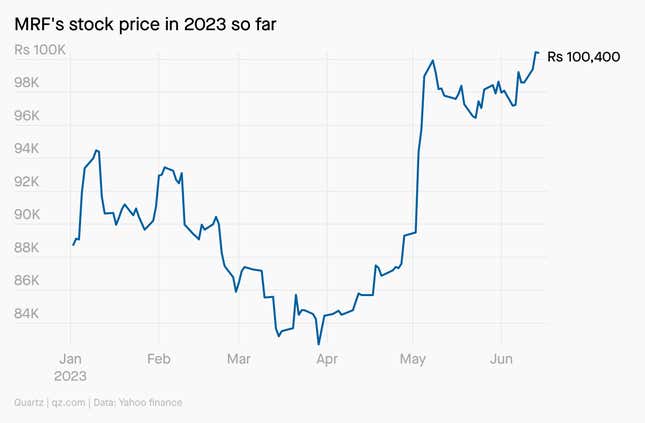 MRF started as a small toy balloon manufacturing unit in 1946, and has since grown into a prominent tire maker with more expensive stock than Google, Apple, Amazon, and even the global tire giant Goodyear. We looked into why.

---
Samsung will try a four-day work week—once a month
1,910: Annual hours worked by a South Korean worker on average in 2021, ranking them among the world's most overworked.
Pressured by its labor union, Samsung is letting its workers take off one Friday each month. It's the latest move the tech giant has taken to loosen its military-style corporate culture, and it's not the first South Korean company to try out the setup. But as interest explodes, can the four-day work week live up to its hype?

---
The Russian Davos may be the world's least attended event
To gauge Russia's standing in the international business community, look no further than the 26th edition of the St. Petersburg International Economic Forum.
Attendance at the Kremlin's flagship finance summit, which kicked off yesterday, already plummeted in 2022, after Russia invaded Ukraine. It's looking even sparser this year. International leaders have snubbed Vladimir Putin's invites, and others have outright boycotted the event. Read about what to expect—and who you won't see—at this year's SPIEF.
---
Quartz most popular
☕ Starbucks was ordered to pay $25 million to an ex-manager who claimed she was fired for being white
🤑 More than 6,000 millionaires will flee India in 2023
🔍 What Twitter's new CEO was really saying in her memo to staff
🚘 Nasdaq is officially dropping Rivian for an auto industry chip maker
🍜 Instant Pot's manufacturer, like many kitchens, relied too much on the Instant Pot
👟 This is what actually happens to the most common things you throw away
---
Surprising discoveries
The US has a new best-selling beer. It overtook Bud Light, it's a supporter of LGBTQ rights, and it wasn't even among the top 10 best sellers a decade ago.
Hire Goldman Sachs' CEO for your next party. David Solomon's side gig as a DJ is spinning up some controversy among bank leaders.
Monday really is the worst day for heart attacks. The start of the work week isn't entirely to blame, but it's not not to blame.
The US approved the first over-the-counter gel for erectile dysfunction. The gel treatment has been found to work similarly to prescription pills.
A black bear was hanging out in the waves at a Florida beach. Look, everyone needs a vacation, especially when the water's just right.
---
Our best wishes for a productive day. Send any news, comments, a Modelo, and a Solomon single to talk@qz.com. Reader support makes Quartz available to all—become a member. Today's Daily Brief was brought to you by Morgan Haefner.