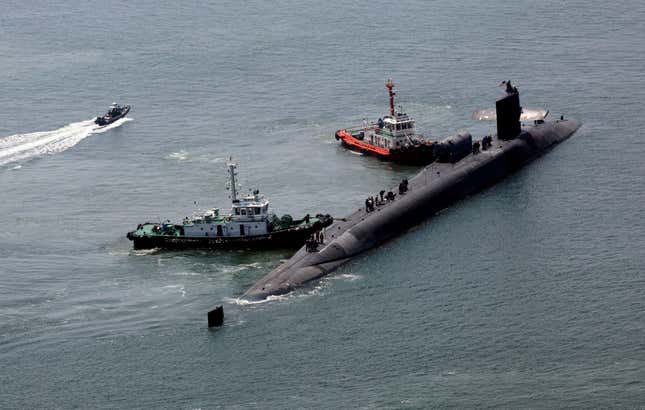 Good morning, Quartz readers!

---
Here's what you need to know
The US's largest nuclear sub planned a visit to South Korea. A visit from an Ohio-class submarine is intended to boost the relationship between Washington and Seoul, but it's unlikely to deter North Korea's nuclear ambitions.
Why a tightening of credit conditions could lead to a weak economy
Canada offered to scoop up skilled foreign workers from the US. Ten thousand immigrants with US H-1B visas, many from India, will be offered three year work permits in Canada.
The former head of Audi was sentenced in Dieselgate fraud. Rupert Stadler was fined $1.2 million and received a suspended jail sentence for his part in the 2015 emissions scandal.
The US Supreme Court kept elections intact. Justices ruled that a fringe theory promoted by Republicans that could have upended US elections is not constitutional.
---
How Foxconn's US EV investment went wrong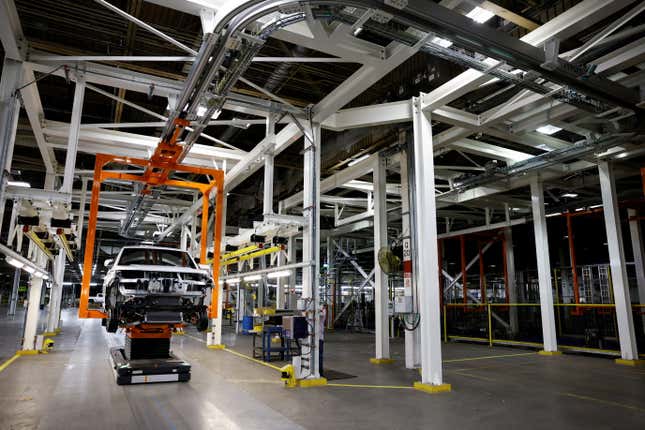 Lordstown Motors, an Ohio-based electric truck maker, today filed both a bankruptcy petition and a lawsuit against Foxconn, the Taiwanese electronics giant, accusing it of failing to deliver on a joint investment agreement.

In 2021, Foxconn agreed to purchase the troubled company's factory and invest as much as $170 million in a joint venture to develop a new EV production platform. But the company, which went public during the SPAC boom, has since seen its stock price crater, and Foxconn said that was all the excuse it needed to back out of the deal. Lordstown's management obviously disagrees.

Without the promised cash, Lordstown couldn't survive, and now the IP behind its Endurance pick-up truck will go up for grabs to the highest bidder. This is just one of Foxconn's joint ventures in the EV world, which include partners in China, Thailand, the US and India.

More Context: EV startups are a casualty of the Fed's rate tightening cycle.
---
The world lost a Switzerland-sized chunk of tropical forest in 2022
Rainforest destruction increased last year, according to an annual report from the World Resources Institute, despite global pledges to reverse the trend by the end of the decade. Scientists say that preserving these ecosystems is vital to slowing climate change and protecting biodiversity. The biggest losses came in Brazil, where rainforests continue to be cut down to further economic development.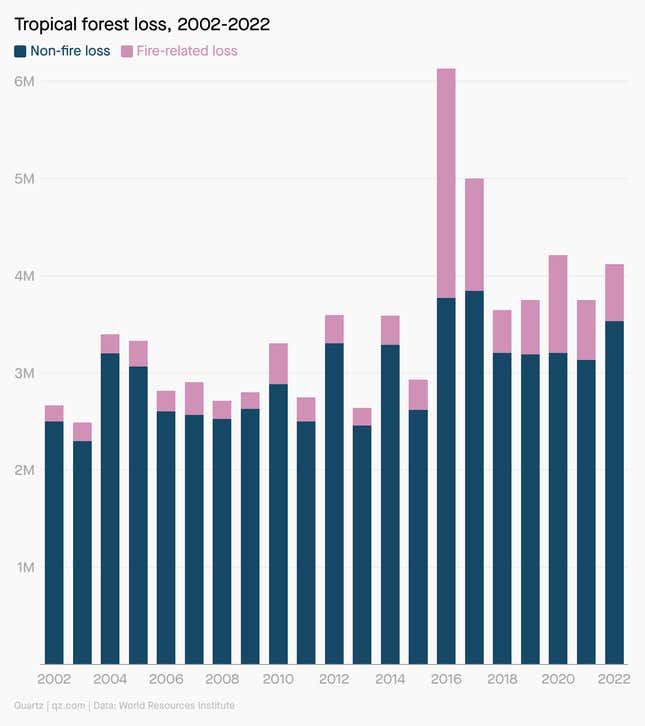 There's some good news: Indonesia and Malaysia kept forest loss at record low levels, and total global forest cover loss slowed 10% compared to 2021. However, that was mainly attributed to an unusually quiet fire season in Russia. With major wildfires already burning in Canada, 2023 may not be so lucky.

---
The US summer BBQ is still pricey
Retail food prices for many summer staples remain higher than this time last year as falling commodity prices are still making their way from wholesalers to consumers.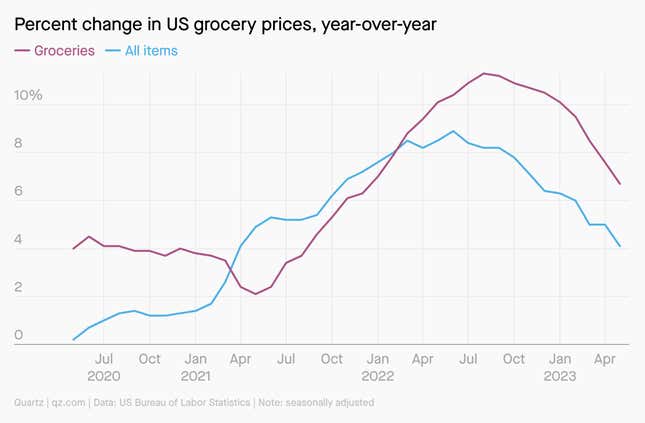 ⏫What's still up? Well, beef, buns, beers, cheese, and potato chips.

⏬What's come down? The chicken—and the egg.
---
Quartz's most popular
👜 A ban on Birkin digital fakes is the latest blow to the flatlining NFT business 
💻 The real impact of Joe Biden's $42 billion broadband fund will come in 2026
🌳 BlackRock CEO Larry Fink is focusing on goals other than "ESG"
📉 The race gap in US employment disappeared for one age group: workers 65 and over
🤖 Social app IRL is shutting down because most of its users are fake
🎮Meta is getting into the VR gaming subscription business
---
Surprising discoveries
Almost 40% of the world's installed software is unlicensed. This is how the world runs on pirated computer programs.
Archaeologists found a Pompeii proto-pizza. A newly revealed Roman fresco depicts a topped flatbread that predates the arrival of tomatoes and mozzarella to Italy.
Canadian wildfires are sending smoke to Europe. The UK, Portugal and Spain can expect vivid sunsets (but hopefully fewer air quality problems) due to high-flying smoke from massive blazes in North America.
Only one US state now forbids drivers from pumping their own gas. New Jersey stands alone in mandating a professional fill-up.
Pickleball is forecast to cost US players $350 million in medical treatment in 2023. The fast-growing sport attracts seniors who pick up various injuries on the court.
---
Our best wishes for a productive day. Send any news, comments, pirate software, and pickleball tips to talk@qz.com. Reader support makes Quartz available to all—become a member. Today's Daily Brief was brought to you by Tim Fernholz and Kevin Ryan.