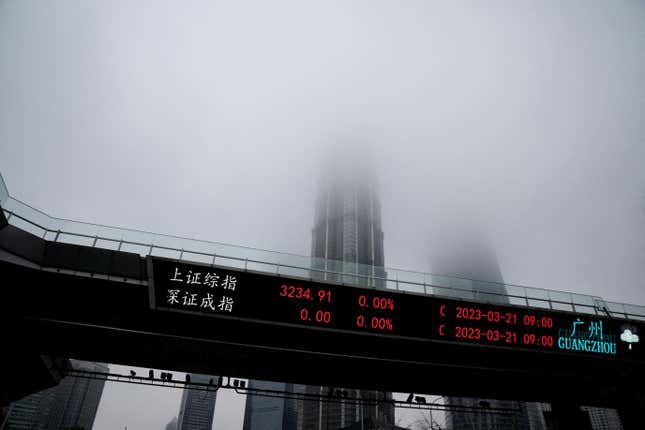 Good morning, Quartz readers!

---
Here's what you need to know
A major Chinese trust firm missed payments. Multiple clients at Zhongrong International Trust have said their payments have been delayed, adding to worries that China's floundering property market is impacting liquidity in the financial industry.
Why a tightening of credit conditions could lead to a weak economy
Intel called off its $5.4 billion Tower deal. Plans for the US chipmaker to acquire Israeli chipmaker Tower Semiconductor fell through after both companies failed to get timely regulatory approvals from Chinese authorities.
A Vietnamese EV manufacturer is now worth more than legacy US carmakers. VinFast's $85 billion valuation puts it ahead of Ford and General Motors.
Coinbase won US regulatory approval to sell crypto futures. It's the first time a crypto-native exchange—and the country's largest at that—has been greenlighted.
---
Target is over the rainbow
For the first time in six years, sales for the US retail giant Target are down. CEO Brian Cornell partially blamed declining sales on controversy over the company's Pride Month merchandise.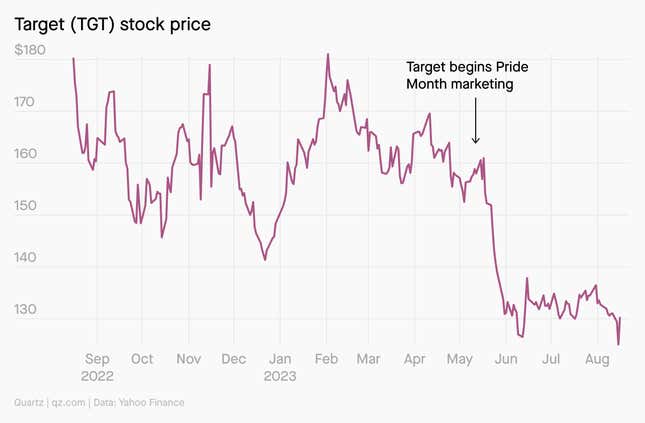 Like with Bud Light, Target's decision to disavow its veneer of LGBTQ advocacy reveals the company's true priorities—the bottom line—which in turn might end up leading to less business from all sides.
---
Apple is hung up on hanging up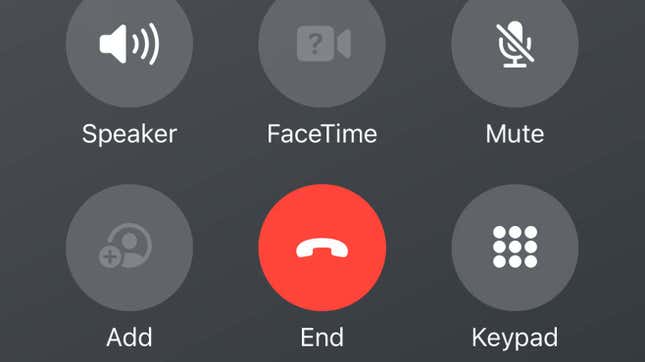 A new software update coming sometime next month may (or may not) move one of the most used buttons on iPhones: the red hang up button used to end calls.

Initially, Apple said it was going to move the icon to the right of where it is now, but that sent users into a tizzy. The iPhone maker is now considering keeping the button in the center, but moved up instead of hovering at the bottom by itself. So sort of back to normal… but not quite.
---
The US GDP is rounding up
The Federal Reserve Bank of Atlanta's running estimate of US economic growth is on the rise. The regional Fed branch's real-time model for gross domestic product (GDP) moved up its third-quarter GDP prediction from 4% to nearly 6% in a matter of weeks. Quartz's Nate DiCamillo explains why.
---
Quartz's most popular
🤗 Every successful relationship is successful for the same exact reasons
🎓 Companies can drop degree requirements, but they still don't know how to hire without them
🚓 Sam Bankman-Fried is headed to one of New York City's most notorious prisons
🚗 Hyundai and Kia are recalling close to 92,000 cars in the US over fire risk
💣 Biden called China's economy a "ticking time bomb." Which countries will suffer?
👴🏼 Japan's labor crunch is so acute that companies are hiring 70-year-olds
---
Surprising discoveries
Countries keep banning Barbie. Algeria pulled the movie from theaters even though it had been running for three weeks.
A California wine company illegally aged its juice in the ocean. Heartbreakingly, 2,000 bottles had to be destroyed.

Harrison Ford is now a snake. A newly discovered serpent species in Peru is one Indiana Jones definitely would have hated.
"Last Night" is coming for "Old Town Road." Morgan Wallen's song has been No. 1 on the Billboard Hot 100 for 16 weeks and counting.
A more helpful daily temperature check involves a wet cloth placed over a thermometer. "Wet bulb temperature" has been guiding the safety of military drills in hot, humid weather since the 1950s, and it's gaining steam as a metric in this rapidly heating day and age as well.

---
Our best wishes for a productive day. Send any news, comments, any illegal wine that may be dumped, and Harrison Fords to talk@qz.com. Reader support makes Quartz available to all—become a member. Today's Daily Brief was brought to you by Morgan Haefner.